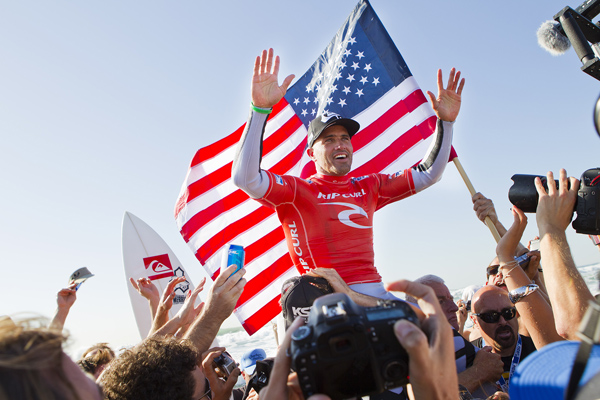 You can do what you want, and make up your own rules. Why be a servant to the law, when you can be it's master?

-Bodhi, "Point Break"
Ever since watching "Point Break" for the 1st time 20 years ago (and after each of the 523 viewings since), I've dreamed of being a surfer. It's a pretty easy dream to realize, I admit. But I've never really given it priority (something I plan on correcting this summer in Brazil). Maybe it was the early hours I dreaded. Maybe South Florida wasn't the best place to take it up. Or maybe, just maybe, I knew that no matter how good I got, or what kind of lifestyle it led to, I would never, ever, come close to being Kelly Slater, a first-ballot 10kMan Hall of Famer, and your latest 10kMan of the Week.
For those who follow surfing religiously, you already know the Florida native clinched his record 11th ASP World Championship earlier this week at the Rip Curl Pro Search in San Francisco. He's the youngest (at age 20) to hold the surfing crown and, now, the oldest (age 39) surfer to earn the title. By continuing to pursue his passion and be the master of his trade at an age when many choose to settle and give up on their dreams, Slater is your 10kMan of the Week.
Having said that, these feats alone do not earn you a spot in the 10kMan Hall of Fame. While his Wiki page lists two decades worth of accomplishments while dominating his competition offshore, it's his achievements on land that place him in the pantheon of 10kMen. I'm not talking about the 4-show stint on 'Baywatch' or his inclusion as a character in a 'Tony Hawk' video game. I'm referring, of course, to his roster of beach bunnies.
While the likes of Justin Timberlake, Ryan Reynolds and Derek Jeter keep him from dominating onshore like he does in the ocean, his set is downright sick. We can only imagine the kind of women he's had that we've never heard of, but his celebrity hit list alone is the type of stuff that legends are made of. Dude flat-out rips.
In no particular order, here are the top 5:
Pamela Anderson
Before Tommy Lee too, showing Slater's knack for being clutch applies to his personal life as well, for obvious reasons I will not point out at this time.
Giselle Bündchen
Before Tom Brady, too. Dude is two steps ahead of the field at all times.
Cameron Diaz
After Justin Timberlake, which to be honest, isn't all that bad, as JT upped her profile. Gonna have to penalize him a bit since she's age-appropriate, but Cameron is still worthy of commending.
Bar Rafaeli
After Leonardo Dicaprio. Right after, too. He denies it, but probably because he doesn't want to be labeled as the King of Sloppy-Seconds. On a side note, you know you're doing something right when you're the rebound for Justin Timberlake and Leonardo Dicaprio's girlfriends. And for the record, I'd take those two guys' sloppy-seconds any day of the week. Just saying.
Laetitia Casta
They shot this L'Oreal ad together. It's unconfirmed, but… come on. Has this man given us any reason to doubt his prowess in and out of the water?
Hollywood actresses.
Sports Illustrated Swimsuit models.
Victoria's Secret supermodels.
Playboy Centerfolds.
And all that surfing stuff, too. A lifetime's worth of highlight reels. An American icon.
Kelly Slater… 10kMan.