LIVE A LITTLE. WHY NOT?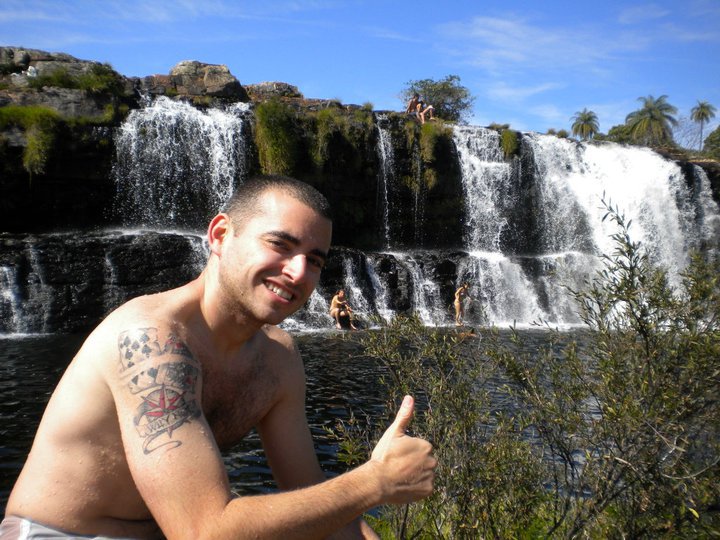 "Now he would never write the things that he had saved to write until he knew enough to write them well. Well, he would not have to fail at trying to write them either. Maybe you could never write them, and that was why you put them off and delayed the starting. Well he would never know, now."

- "The Snows of Kilimanjaro", Ernest Hemingway
WHY NOT?
Ever since pulling an "Office Space" and getting intentionally discarded (pronounced 'fired') by the corporate world 7 years ago in South Florida, that question's been at the heart of my approach from one adventure to the next. Half a dozen open-jaw flights and a reality show appearance later, it's become infectious, as has the travel bug (that's why I rent. And loosely date).
In time, I hope this blog can help spread the why-not mentality even further. Like the rage in "28 Days Later". Or at the very least, like chicken pox. Itchy, scratchy chicken pox.
After letting $10,000 (i.e. 10k) ride on the short-lived, Vegas-based "Caesars 24/7″ reality show and spending the better part of 2 years traveling to 20+ countries on 5 continents, I was officially addicted to change. Truthfully, I thrived on it. And what better way of embracing change than to travel?
But indefinite travel is unsustainable by itself. All work and no play makes Jack Juan a dull boy, but the opposite, surprisingly enough, can get old too. So I turned to real estate for balance and freedom, working hard for months at a time, and then taking the rewards with me to Europe or South America. Eventually though, the house of cards collapsed (pun intended) and the bubble burst, ending the party before I could plan my next move.
That led to some soul-searching, and it was then I decided to make a run at a dream hostel in Montañita, a bohemian surfer's paradise nestled on the south coast of Ecuador. But alas, the timing and capital were just off. Instead, I did the next best thing and went all-in on hospitality and moved to Illinois to be groomed in hopes of having a property of my own. After all, who doesn't want to be Donald Trump? Yet despite finding it rewarding, exciting, and challenging, the thirst for escape never truly subsided. I still had ambitions that extended far beyond the States, and the time was now to pursue them.
Living overseas. Learning a new language. Teaching. Writing. There had never been a better time to make the leap. I was single with no mortgage, no car loan, and no kids (at least, none that I knew of… or none that could get in to the U.S. to make their claim), and my family was in good health.
It was then that I realized that the best experiences I had while traveling were when I had the time and knowledge to immerse myself in a location the same way a local would. And so it begged the question: What if I stayed at my next destination… indefinitely? What if I made a life for myself, beyond just extended travel, in a country I didn't know? Isn't life as an expatriate, in a way, the most sustainable form of perpetual travel?
In India, it's the difference between a guided tour of the Taj Mahal and a four-day wedding in Ranchi. In São Paulo, it's the difference between Fogo De Chão in Moema and an unmarked house in Pinheiros, which doubles as one of the best seafood restaurants in the city.
Expat travel is a state of limbo between your comfort zone and infinite drifting. Living as an expat, a nomad, offers the best of both worlds. To live as a local, in a foreign country sounded like sensory overload in its fullest splendor. Why not?
And so I went. Eu fui. To São Paulo, Brazil. Yes, BRAZIL. One of the few places where I could realize all those previously-mentioned ambitions at once. Learning Portuguese. Living like a local. Teaching English and Spanish (allegedly, as per my accountant). And now, finally, writing.
I've been here for almost 6 months now, living the dream. Well, not the dream. My dream.
I've moved around so much for so long that I find myself feeling most at home, as strange as it may seem, when I'm not. And so at this very moment, I can say I feel completely at home. And it's all types of awesome.
My first goal with this blog is to show you that we're really not that different from each other. My greatest passion might be travel, but it doesn't have to be yours. I may want to walk the Earth like Jules in "Pulp Fiction", but even if you don't (oh come on, live a little!), my message is still the same. Pursue your dreams. Embrace change. Ask why not.
Years from now you'll regret the things you don't do more than the things you did, regardless of the outcome (yes, including that night in Frankfurt when you had beer goggles and caught the grenade). It's cheesy, and may be a cliché, but I talk to too many people that are all too accustomed to making excuses instead of taking action.  If I can motivate one person to escape normalcy every week, my job is complete.
Secondly, I want to educate and help out aspiring and/or seasoned travelers.
I've visited 31 countries, ran from the bulls in Pamplona, picked a fight with hundreds at the Tomatina in Buñol, burned a viejo in Guayaquil, and climbed the bridge in Sydney.
I've gone sans earplugs at the Grand Prix of Monaco, watched Federer at Centre Court in Wimbledon, had eye-level seats for De La Hoya/Mayweather in Vegas, and celebrated three Ecuador goals in Hamburg at the World Cup back in 2006.
But I've also experienced Muay Thai from the cheap seats in Bangkok, took in the Hurling Championships in Dublin, attended a Sydney/Melbourne Aussie Rules match at the MCG and chanted "Hatton Wonderland" at the MEN Arena when Ricky Hatton made Kostya Tszyu quit on the stool in Manchester.
Some of these were cheaper than others. You'll be surprised at which, however.
All in all, the one thing that hasn't changed is that I've always tried to do things as a local would. Throw in three languages (yes, I'm counting Portuñol), three passports (all once stamped in the same 24-hour period, allegedly), and a 6-month head start living in Brazil, and I may have enough tidbits to be the travel and language complement to your Lifehacker obsession.
Lastly, I want to dedicate this blog to all the friends and family I've left along the journey, especially my little sister and my parents. My first and middle names, Juan Salvador, are the Spanish translation for the seagull in "Jonathan Livingston Seagull", the Richard Bach novel about a bird, with a passion for flight and knowledge, who's outlawed by his peers for his unwillingness to accept the materialism and conformity that is customary in their society.
I'm still learning, Mom. And I'm still flying, Pops. Thanks.
10kJuan
P.S. Follow my journey into Brazil (and into writing) using the big, fat floating buttons on the right. Then share this page using the buttons below. Sharing IS caring. Safe travels.