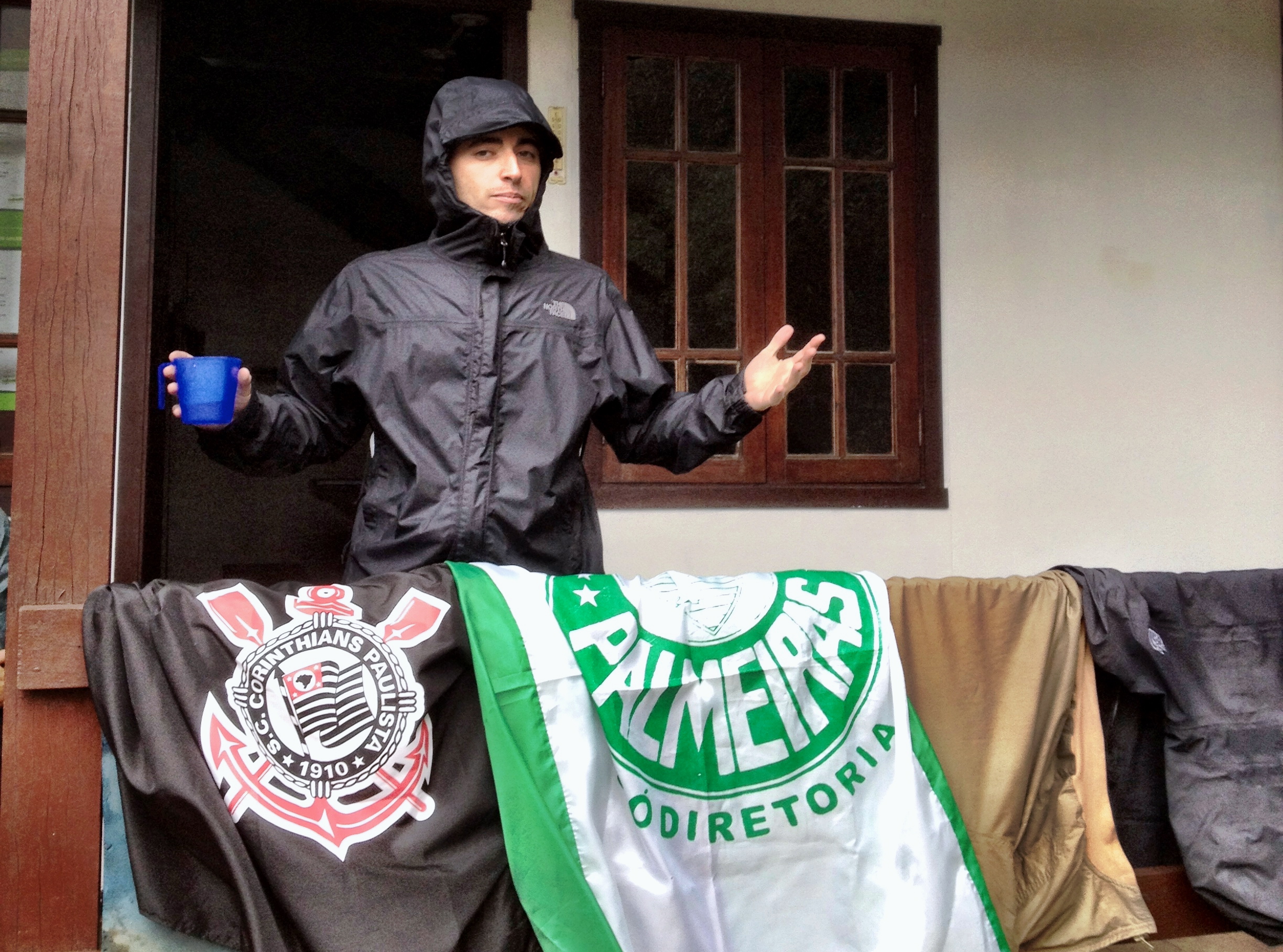 "Dude, anyone but Corinthians. If you pick Corinthians, start looking for somewhere else to live."

-My housemate Mateus, a Cruzeiro supporter, May 2012
AS THE STONES ONCE SAID, you can't always get what you want. Time and time again, we aim high and settle for something less. It's not necessarily a bad thing. I was supposed to be living in Spain right now. I could've bought a hostel two years back in Montañita, or run my own hotel in the Midwest.
But plans change. Opportunities come and go, and you make the most of what's presented to you. You can't stress what could've been. Instead, adjust, and turn a negative into a positive.
So it goes with blogging. What was originally scheduled to be a 7-part, 10,000-word post dissecting my final 3 options slowed to a crawl and resulted in a 3-part inconclusive spiel which left Palmeiras and Santos unexamined and my allegiance in doubt.
But plans change. Few things go as anticipated in life, and similarly, my writing plans have changed.
I won't be doing a Palmeiras post, or a Santos one. After months of indecisiveness and indifference, my heart has stepped in and played facilitator. Seven months after my original deadline, my mind's made up.
Here are the 4 things that helped me decide.
RELEVANCE IS KEY
As stated in Part II of my 'Choosing a Brazilian soccer team' series, relevance is fundamental. If immersion is what I'm after, I need a team that will be on TV and play in big games.
Enter Palmeiras. Despite sneaking in to Libertadores on account of their Copa do Brasil championship, o verdão will be spending the 2013 season in Serie B following their unprecedented relegation, and that is unacceptable.
2013 IS A NEW YEAR
Now that Corinthians are no longer the defending Brazilian champs, and are instead FIFA Club World Cup champions, all of São Paulo's teams have clean slates, so for the first time since my arrival, there's no bandwagon jumping in play.
ACCESSIBILITY
I tried for several months to watch a Santos game before making a decision. I tried and I failed. Santos games are rarely played in SP, and sometimes the venue isn't decided until the week of the game, making it close to impossible for me to attend a game, which was always a must.
HATE ISN'T A MUST
My biggest hangup with Palmeiras and Corinthians was that I couldn't bring myself to hate either one, making either team undesirable. But after reading this, I've been moved to push that thought aside.
I may not like the Lakers, Yankees or Irish, but I'd certainly cheer for them against Russian, Canadian or French teams in international competition. Hate doesn't have to go that far.
So despite word that Santos may be moving more games to SP in 2013 or 2014, there's only one team left of the three that is relevant and accessible in SP.
One team with a fan base passionate enough to nearly destroy an international airport in anticipation of the team's departure for Japan.
One movement passionate enough to inspire two fans to take to the streets in Santiago after their team's recent victory over Chelsea, team flag in hand, chanting fight songs with no one around to hear.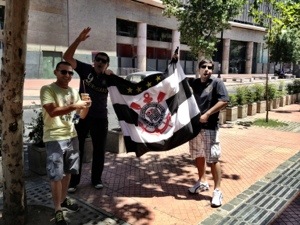 One team with enough momentum to move Nike to place this billboard within blocks of Chelsea's home turf.
And only one team that has truly piqued my interest since I arrived.
That team, of course, is Corinthians.
Really.
From this day on, I bleed black and white. I stand with the bando de loucos.
I wanted a reason to cut my hair like Neymar and support Santos. And I tried, I really did, to sympathize with Palmeiras, whose mid-table anonymity (a phrase my friend Matt coined) reminded me of my own struggles with teams back home.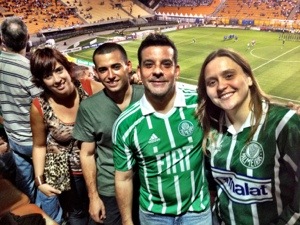 But Santos doesn't play in SP, and their fanbase is close to non-existent. And Palmeiras is in Serie B.
It wasn't as I'd planned, but life's like that sometimes. Things change, you adapt, you make the most of it, and you move on.
Why fight the waves when you can learn to surf instead?
Vai Corinthians!
P.S. Anyone have a bedroom for rent?