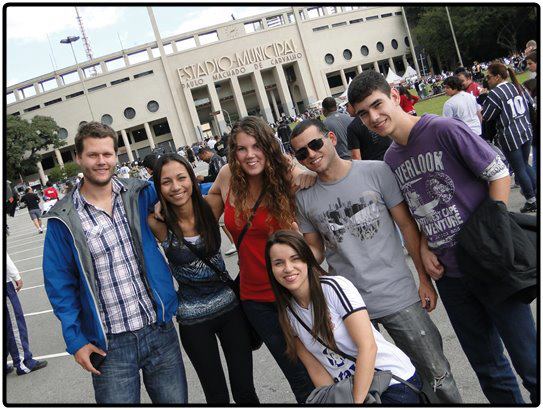 To read Part I of Choosing a Brazilian Soccer Team, click here.
To read Part II, click here.
"We cook your meals, we haul your trash, we connect your calls, we drive your ambulances. We guard you while you sleep. Do not… f*ck with us."

-Tyler Durden, 'Fight Club'
AT FIRST, I had thought the two ladies knew each other. It's rare enough seeing one retirement-age woman at a soccer game. Seeing one dash angrily towards another in front of São Paulo's Pacaembu Stadium surely meant they were relatives or friends. At the very least, they had once shared a Bingo bench. But they weren't. And they hadn't. This was something else.
The black-and-white-donned dasher began to yell and point, and was now face-to-face with the other. Children stared. Scalpers stopped to listen. The raucous pre-game crowd had been reduced to gawkers without warning.
"Onde você acha que vai com esa camisa!?", the disgruntled pensioner screamed, escalating the situation even further. She wanted to know where the other thought she was going wearing that shirt, and ordered her to take off her tri-colored top.
After little-to-no resistance, the woman, aided by her husband, succumbed to The Alpha Grandma, did as she had been told and dishearteningly removed her São Paulo Futebol Club t-shirt before continuing on to the main gate.
That was my first experience at a Corinthians game.
It couldn't have been more fitting, either. After 13 months living in São Paulo, it confirmed everything I had gathered up to that point. Corinthianos are resilient, relentless, and loyal. Their aggression is usually evident within moments of meeting them. And they hate São Paulo fans. With a passion. Case in point: our would-be-knitter, The Alpha Grandma.
While their fan base falls short of Flamengo's in terms of size, they more than make up for it with their notoriety. Some recent examples:
One fan I met doesn't attend games anymore because she was once threatened and berated for not participating enough in the chants and support. Mind you, she's a Corinthiana!
They were at least partly responsible for the debacle at São Paulo's 2012 Carnaval parade (see video below too).
I even saw a Metro police officer force a young São Paulo fan in team attire to exit a Corinthians-bound train on a futebol Sunday for his own safety.
Make no mistake, Corinthianos are all business, for better or for worse.
So why are they part of my final 3 teams? Why not? If full immersion is what I'm looking for, the game-day rush at a Corinthians game is unrivaled. The majority of my social circle supports them, and you can always count on the game being on, so participation would never be a problem. In fact, even if you're not a Corinthians fan, you're still likely watching the game! That's because Corinthians is the quintessential love/hate team. You're either watching and hoping they win, or watching to see them lose. They're similar to the Yankees and Lakers in this regard. No other Brazilian team is capable of this polarizing effect.
And with that, let's get into our 19-point breakdown of Corinthians:
MOST RECENT TITLE- 2011 (Brasilerão)
They are indeed the defending champions, which is a negative in my book. Bandwagon fans, as mentioned in the previous post, are the worst type of species. They're sport scum. But since I'm not switching from a different team, I don't think I fit the description.
HISTORY- Surprisingly enough, soccer was considered an elitist sport in Brazil in the early 20th century. That all changed when a group of laborers decided to create a team of the people, by the people, and for the people, and name it after an English team, Corinthian, which had toured Brazil in spectacular fashion that year. And just like that, the people's team, known here as the time do povo, was born.
More recently, Corinthians' 2011 title means they've now won 5 of the last 21 Brazilian championships, an impressive number considering they went through a terrible stretch in the mid-2000s which culminated in their relegation to Serie B at the end of the 2007 season. That led to their admirable "Eu Nunca Vou Te Abandonar" campaign, and their eventual return to Serie A. Since then, it's been smooth sailing, as they're the defending Brasilerão champions, and current Copa Libertadores semi-finalists.
NICKNAME- Timão/Bandidos/Fiel/Bando de Loucos
The team is nicknamed Timão, which roughly means large team, or grand team (probably depends on who you ask) ship's hull, but the fans are known as the bandidos, or thieves, to other supporters. That's when they're not being called slum dwellers, or malucos. Let's consider this the first of many Oakland Raider comparisons. In addition, the fan base is known as the fiel, or the loyal, as they are the most devoted of all the fan bases here. That or the bando de loucos. Translation? Bunch of maniacs.
Are you sensing the recurring theme yet?
MOST SIMILAR TO- Oakland Raiders/Miami Hurricanes
The 80′s Hurricanes, of course, point being that Corinthians has a definite bad-boy image despite being successful. You'd need to deforest the remainder of the Amazon to print off their collective fan base's rap sheet, and the crowd at their games is like the Raiders' infamous "Black Hole", but with certifiably insane fans chanting in unison for the full 90 minutes. All types of crazy.
FAN BASE- We've already discussed Corinthians' best/worst attribute in detail above, but just for emphasis, they're by far the largest in SP and craziest in Brazil. The team never gives up, nor do their supporters. As one of my students said, they're known for overcoming adversity, and the people identify with that. That's why they're the people's team. While other teams' fans live for championships, Corinthianos live for CORINTHIANS.
That said, it's also worth mentioning that they're generally known as whiners as they definitely like to complain about the referees. When they win, it's because Corinthians is the best. When they lose, it's because of the referees. Those are the only two options. You know, kind of like Miami Heat fans. Note to self.
OWNERSHIP/FRONT OFFICE- Without knowing too much about the players, I can only comment on what I've experienced since being here. They brought in Adriano last year to add some offensive firepower, and he came through a couple of times, despite his eating disorder (more on this later) and character issues. The problems continued though, and the team parted ways with him after their championship run. All in all, despite doing a good job of building a nucleus of players who buy in to the defense/effort system,the Adriano saga gives me New York Knicks/Eddy Curry flashbacks.
That aside, they also had a controversial relationship in the mid-2000s with a shady Iranian investor named Joorabchian. With Russian ties, questionable sources of capital and more criminal connections than a Bond villain (allegedly), what could go wrong?
After some heavy spending, shady refereeing, and glad-handing with league executives, the short-lived affair tainted Corinthians' subsequent 2005 title in many fans' eyes (Santos, SPFC and Palmeiras, I assume). And as an American, well, the Iranian and Russian ties are… concerning.
HEAD COACH- The fiery veteran was ejected during their recent Copa Libertadores game and proceeded to join the fans in the stands (right around the 1:50 mark), animated as ever, especially after the game-winning goal. That just about sums Tite up. He usually wears black-on-black button-downs and slacks, and his slicked-back salt-and-pepper hair makes him look like the head of one of the five crime families. Kind of like Al Pacino in "Any Given Sunday", but with more grays. Needless to say, I'm a big fan.
LOCATION- Zona Leste
It's a bit rough around the edges, but the beer is cheap. In fact, the area is so Corinthians-centric that they renamed the last metro station on the Red Line "Corinthians-Itaquera". Solid.
COLORS/UNIFORM/KITS- Black & White, with a touch of red.
Actually that may be blood. I'll have to confirm. The black and white, though, are yet another reminder that they are, without a doubt, the Oakland Raiders of Brazilian futebol.
STYLE OF PLAY- Despite Tite denying the similarities, the team subscribes to a Chelsea-like strategy, opting to defend first, and attack with timely, efficient counter-strikes. In 2011, they held their opponents to 36 goals in 38 games, the best in Serie A. All this makes their games a bit dull and ugly though in comparison to the up-tempo, attack-first style of Santos, for example, but you'll never hear the fan base complain. They cheer every contested ball and tackle just as loudly as a goal. Still, the fun factor takes a big hit in this department.
SPONSORS- Jontex/Neo Química/Nike
For those who don't frequent South American pharmacies in the wee hours of the night, Jontex is a condom. My sources say they're popular, budget-friendly and somewhat dangerous… Just like Corinthians! The wrapper is even black and white. It's a match made in heaven.
As for Neo Química, it's a pharmaceutical company. You can do worse than condoms and drugs. Stay in school, kids.
Add Nike apparel to the mix and you've got a perfect score on the sponsor front.
SOCIAL MEDIA- When I first posted Pt.II of my blog, I @'d the largest Corinthians, Santos and Palmeiras fan clubs' Twitter accounts in search of reasons to follow each respective club. Weeks later, the only direct reply is still from a Corinthians one, and I've since been followed by 5 more.
@10kJuan vai liedson! bit.ly/Ir8cgY

— Tweets sobre o Timão (@corinthtweets) May 11, 2012
Aside from that, the Nike sponsorship lead to this video on their YouTube page:
STADIUM- None. They play in their rivals' stadiums. A few years back, the Miami Hurricanes, my favorite college football team, started to play in the Miami Dolphins' stadium, my most hated sports team of all. This was mostly tolerable after throwing up a few times during the tailgate, but it's a big strike for the Timão.
The good news is their brand new one will be, well, brand new, and is scheduled to be finished in time for the World Cup in 2014. Allegedly.
MISERY FACTOR- The fanbase never loses hope, and rightfully so, as the Timão is known for its resilience, its feistiness, and its suffering. Even when they lose, the games are enjoyable and full of emotion. At our recent Futebol Crawl, the loudest moment of the game was after Fluminense's goal, as the torcida drowned out Flu's fans' celebration.
No one's perfect though. The Corinthianos claim to fan fame? Griping about the refereeing, as mentioned earlier. Still, a far cry from SPFC's downside, for example.
MOST-HATED RIVAL- Palmeiras
In reality, everyone hates Corinthians and vice versa, but it's reciprocated the most with Palmeiras, in case the fan deaths noted earlier didn't make that blatantly obvious. Still not convinced? Try this one.
In fact, under the advisement of our resident Corinthians loyalist at São Paulo Backpacker Tours, we even put "Palmeiras apparel and/or any green apparel" under the "DO NOT WEAR" section of our FAQ page for the Corinthians game we recently attended. Yes, it's that bad.
RANDOM FACT- Earlier this year during the Campeonato Paulista, former Brazilian National team standout Adriano was put under a house arrest of sorts and locked in his hotel room by the team to make him lose weight. It didn't work and they cut him shortly after. No, really. That actually happened. Only in South America.
GAME-DAY EXPERIENCE- A lot like UM/Raider games in that the fan background is diverse to say the least, and borderline crazy. Combine the Raiders' Black Hole, the Browns' Dog Pound, Duke's Cameron Crazies, and the Orange Bowl's GA section, sprinkle in a "Con-Air" dose of felons, and turn the volume up to its deafening max and you'll begin to have an idea of what a home game is like. Also, you may get caught in a mêlée. So there's that side of it, too.
CELEBRITY FANS- You may have heard of Anderson "Spider" Silva, Ayrton Senna, and former President Lula. You may NOT have heard of Sabrina Sato. Or Sabrina Sato. But now you have. All in all, you could do much worse than that foursome.
SIGNATURE PLAYER (PAST/PRESENT)- Ronaldo/Socrates (Past), None (Present)
In Socrates and Ronaldo, Corinthians can claim two of the bigger names in Brazilian futebol history. Socrates passed away on the final day of the 2011 season, the same day Corinthians clinched the championship. And Ronaldo is a modern-day legend. A really, really fat modern-day legend.
Falling in line with their current approach on the pitch, however, Corinthians is now bigger than any one player, so there really isn't one marquee player that stands out at the moment. In this regard, they're a bit like the NFL Patriots in that the team buys in to the emphasis on effort and defense. Being from a star-loving city like NY though, this is a bit disappointing in my opinion.
And that is all for Corinthians. Santos and Palmeiras are next, with the life-changing decision to follow.
But what do you think, São Paulo?
And what about my fellow American/European sports fans? Would you choose Corinthians? Why/Why not?