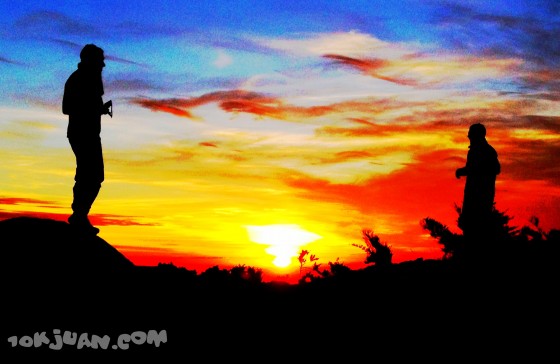 "If we would've told you everything, you probably wouldn't have done it. But I knew you wouldn't crap your pants. Pee your pants maybe, but not crap."  -Mateus, moments after reaching our 2nd campsite en route to Teresópolis

"You only ever grow as a human being if you're outside of your comfort zone" -Percy Cerutty
As March hits full stride and we near the end of the 1st quarter in 2013, some of you have already settled into your usual post-New Year's Resolution funk, content with the improvements you made and eyeing a return to your old routine. But just cause you've lost momentum with your goals doesn't mean your goals are lost. You may just need to get lost yourself and wander out of your comfort zone.
Mired in a creative funk – which was feeding off my cozy routine, no doubt – and staring down the barrel of a long holiday weekend, my roommates and I were lounging at the house back in July, watching Corinthians put Boca Juniors away for their 1st Copa Libertadores title, when I got an offer I couldn't refuse: tackle the 35-kilometer, three-day, classic mountain trek from Petrópolis to Teresópolis in Rio de Janeiro state.
My partners in climb? My housemates Felipe and Mateus, endearingly known as – much to the amusement of my Brazilian friends – Os Britos (The Britos).
The Britos are brothers from Belo Horizonte, which makes them Mineiros (i.e. people born in Minas Gerais state) and means they're most at home in the outdoors – if Bear Grills had Brazilian family, they'd be Britos for sure – cut all their words in half, and always have good queijo. They're like the mice in 'Who Moved My Cheese?', with slightly worse enunciation.
I met Mateus back in Fort Lauderdale back when we were both white-collar cube dwellers at Franklin Templeton and kept in touch after he moved back to Brazil in 2007. Since my tenure started at Casa 1 in June of last year, Os Britos have been my guardian angels in more ways than I care to disclose. So despite the fear that stemmed from my being a mountain trek virgin, I was pretty sure they wouldn't let anything happen to me on their watch. I'd already trekked with them in Serra do Cipó. so if they were asking me to go, they clearly thought this was the next logical step in my mountaineer training. I even taunted Mother Nature in this tweet. The decision was made. It was time to stop being curious and kill the cat.
But I was wrong. Oh, so painfully wrong. What ensued over the next three days in the mountains tested the very manhood that compelled me to go, and pushed my physical and mental endurance to the brink of defeat. Extremities went numb, muscles I didn't even know I had cramped up, and I ended up with pneumonia two weeks later. I really, really hated the Britos throughout most of the trip. At times I was so out of breath, I couldn't tell if it was from absolute exhaustion or because I had just made it through a life-threatening leg of the climb. The rain was outdone only by the gusts of wind, the brunt of which hit us while crossing O Dinosaurio, a capital-A-letter-shaped peak with a bottomless abyss on both sides. It was times like this that made me miss and love São Paulo the most.
There were a few Cliffhanger-esque close calls, but one of the Britos was always around to point me in the right direction and/or clasp my hand just before I fell into a 2000-meter abyss. In the end though, it was all worth it, from the Brothers' embrace and approval to the validation of my taunting tweet at Mother Nature. I thanked them for bringing me along, and apologized for slowing them down, but I managed to keep up with the breakneck pace of Os Britos – who were alarmingly surprised that I did – earning my wings, as well as their respect.
Most importantly though, despite nearly losing my life a handful of times, I didn't lose the lesson: the trip drove me way out of my comfort zone and gave me the reboot I needed to get my shit back together. There were no check-ins, no social networks, no hot showers (by far the saddest 'no') and no crazy-hot brasileiras with adorable accents anywhere in sight. I even missed the Anderson Silva fight and the Wimbledon final. Forget comfort zones – I was off the grid.
Habits may be the key to long-term success and fruition of your goals, but too much routine can make you plateau before you've won the prize. It happens in the gym if you don't change your workout. The same applies to your mind. In getting out of your element, you're able to break through that wall and out of your funk.
So do you have to brave the elements in the mountains in the middle of nowhere, Brazil? Not at all – I almost fell off a precipice a half-dozen times and was popping antibiotics in the aftermath. Probably better if you find a metaphorical hill to climb and explore instead.
The key is to get new perspective. You can start small and travel somewhere you've never been before, take on a new sport and try a new type of food out, or do something more drastic like leave your job, give your wardrobe away, or move to a new city. What matters is breaking out of your routine and taking on something new.
So get out of that shell. Bite off more than you can chew. Get lost. Not every day perhaps, but every time you're lulled into a comfort zone at least. Find what you thrive on, and seek it out when you're in a rut.
Safe places thrive on fear. I thrive on constant change and the unknown.
What do you thrive on?