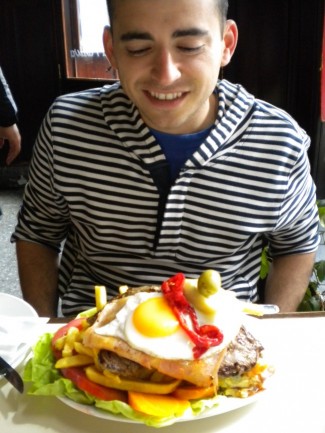 "The apex of the sandwich-making arts? Uruguay. The mighty Chivito. Pretty much my philosophy encapsulated in sandwich form."

-Anthony Bourdain, "No Reservations"
Some of my favorite meals while traveling have been, maybe not so surprisingly, sandwiches. The Baguette on Rue Mouffetard in Paris' Quartier Latin. The Po' Boy in New Orleans' French Quarter. 'The Beast', formerly known as 'The Heart Attack', at Cherry Valley Deli in Queens. And my current favorite, Don Carbon's California Chick'n sandwich in Montañita, Ecuador. Each of these sandwiches deserves its own 5000-word blog post and first-ballot entry into the Sandwich Hall of Fame, if such a thing exists. And now, after my recent weekend in Montevideo, so too does La Pasiva's infamous Chivito.
The legend goes as follows. A female tourist, from Argentina or Chile, stopped in at a Punta del Este bar and ordered chivito, a meal she had enjoyed while passing through Córdoba. Chivito is the grilled meat of a small goat commonly eaten in Argentina because of its tenderness and relatively low price. The Uruguayan restaurateur, Antonio Carbonario, not wanting to lose out on a client, accepted the order and proceeded to make her a churrasco (steak, not goat meat) sandwich topped with eveything but the kitchen sink. She ends up loving it, and the sandwich earns a permanent place on his menu under the name Chivito, going on to become Uruguay's national dish.
Of course, this would never happen today. That same tourist would fire up Yelp or Google on one of her handful of wireless gadgets and find the best chivito joint in town in about 5 minutes, regardless of her location. But this happened in the middle of the 20th century, decades before Gordon Gecko had even dreamed of rocking his VCR-sized cell phone in 'Wall Street'. No, this was one thing technology wouldn't have a chance to ruin. It was meant to be.
The culinary Gods had spoken. The chivito was born.
I want to believe the story. I really do. But after struggling to house this mammoth monstrosity, I feel like there's something missing. A sandwich this good wasn't put together for just any old tourist. Nor was it devised by your run-of-the-mill small business owner. This is a 'Man-versus-Food'-worthy serving, three quarters of a century before 'Man-Versus-Food' was socially acceptable.  A concoction this glorious had to have had a deeper purpose.
What I'm thinking…  is that it went something like this:
(I'm partial to Peter Falk as our narrator, but use your own voiceover if you wish)
Our innovator-to-be has just broken up with his latest girlfriend over the Peñarol game, her being a casual Nacional fan and all. The game was more of an excuse really, the last straw if you will, as things had gone from bad to worse as of late. Punta Del Este had always been a tough town to find a good woman. A seasonal oasis with casinos, beaches and nightlife, most of the talent migrated in and out around the same times each year. My man's having an especially rough week in the midst of the slow season, still not finding any luck a year removed from his second divorce. The restaurant is all he's got right now, and business has slowed to a crawl following the summer. Tonight is no different. Two or three regulars sharing a liter bottle after work, and little else.
But then this Argentinian walks in. Hot little thing. The type of woman who hasn't paid for her own Malbec since she was old enough to drink a glass. The type that, nowadays, gets snatched up before she can make the predictable move to Miami. All due respect to the beautiful imports in South Florida and beyond, but the top shelf never makes it to passport control in the U.S. And if they do, it's with a wedding ring on one hand and a small child clenching the other. She's the hottest thing that's walked into his bar in months, if not years, which was when Wife #2 walked in, during a bachelorette party 3 years back.
Antonio falls all over himself seating her, brushing the eager waiter aside before he can manage to secure a menu. A courtesy Pilsen follows shortly after and produces her first smile. But he struggles to make eye contact, still lacking confidence so soon after his recent breakup.
On the other hand, our soon-to-be-infamous tourist is just happy to interact with someone after the 15-hour drive from Córdoba, not to mention the travel time from Chile and/or Mendoza. Even if she split the drive up into two days, the hilly journey would've surely worn her out by now. But she's made herself comfortable. And she likes Uruguayans. They've got more character than the Buenos Aires preppies she usually dates. And they're equally confident too, but without the Argentinian arrogance. She admires those same qualities in our restaurateur as they exchange pleasantries. He brings her the menú, and at some point during the conversation, the restaurateur/patron line dissolves.
Antonio pours himself a draft and sets up shop at our tourist's end of the bar. The sun is setting in Punta, and he's starting to feel like it's his lucky night. She's laughing at his jokes, even the forced ones. And she can't stop playing with her hair, just like Wife #2 when she ordered that first round of shots from him.
But then she interjects. She's famish, and the brew has only made things worse. It's been a long drive, and she's only had her basic Argentinian breakfast of toast, jelly and mate (tea). Having said that, she hasn't even opened her menu. She doesn't need to, she says. She knows exactly what she wants because she's been thinking about it since the midway point of her trip. She wants chivito. She had a delicious chivito in Mendoza, the likes of which she had never had back home, and she was determined to take advantage of the high-quality meat while she was on vacation. She's embarrassed to admit it's what made her stop at his particular establishment.
Antonio was floored. Not only was the mood interrupted, but her sole desire was something he couldn't serve her. You see, they didn't eat chivito in Punta. No demand for it. But if she wanted it, he would find a way to make her happy and keep her around. Like every man before him and every man after, he was about to go the distance to keep his potential conquest at bay. He topped her off to buy himself some time, and excused himself.
The kitchen was a mess. Given the lack of business as of late, it should've been sparkling, but a lack of activity is contagious, and the staff had fallen into something of a funk. He had let go the Ecuadorian cook he found sleeping by the freezer, and the cleaning ladies hadn't come in a week since he didn't have the cash to pay them. But she didn't have to know that. He rinsed some pans out and checked the meat locker. All churrasco. Just as he had thought. The veggies were fresh though, and he had a ton of prepared food ahead of a business luncheon they were hosting the following day. There had to be a way.
It was then that he had his moment of clarity. If cooked right, smothered in tasty ingredients, and sandwiched between toasted, buttered bread, the churrasco might just do the trick for his hungry brunette. He began heating the chapa (or griddle) and started going through the options.
Beets? Check.
Lettuce? Of course.
Tomato? A Uruguyan sandwich staple.
Egg? The gooey yolk could help disguise the distinct color of meat if he cooked it sunny-side up. Worth a try.
Russian salad from the luncheon? Why not?
Palm hearts? Would make for a nice garnish.
Ham? Bacon? Its Uruguay! The more meat the merrier!
Cheese? Who didn't like a fat slab of melted mozzarella on their steak?